God's Plan of Salvation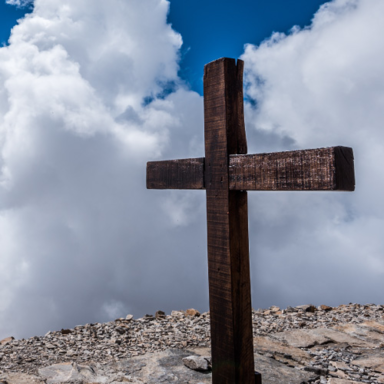 "For God so loved the world that he gave his only begotten Son that whosoever believeth in him should not perish, but have everlasting life." John 3:16
Jesus said of Himself.... "For the Son of man is come to seek and to save that which was lost." Luke 19:10
The apostle Paul wrote to Timothy.... "This is a faithful saying, and worthy of all acceptation, that Christ Jesus came into the world to save sinners; of whom I am chief. (16) Howbeit for this cause I obtained mercy, that in me first Jesus Christ might shew forth all longsuffering, for a pattern to them which should hereafter believe on him to life everlasting." 1Timothy 1:15-16
"For all have sinned, and come short of the glory of God;" Romans 3:23
"For the wages of sin is death; but the gift of God is eternal life through Jesus Christ our Lord." Romans 6:23
The above quoted verses from the Bible show the fundamental problem for all human beings... we are all sinners before a holy God and separated from Him by our sin. But God gave His only begotten Son to this world of sinful men that He might save us from our sin and forgive our sins that we not perish and that we should have eternal life.
The gospel of Jesus Christ is.... "...Christ died for our sins according to the scriptures; (4) And that he was buried, and that he rose again the third day according to the scriptures:" 1Corinthians 15:3-4
So how can I be saved from my sin? What steps do I need to take to be saved?
It's a simple as A - B - C...
A. Acknowledge that God is and Admit you have sinned against Him...
To believe that God is and that He is the Creator and the Holy One and that you have offended Him by your sin and disobedience to His Word is the first step in being saved... To admit you have sinned against God necessarily requires you to repent of your sin.. The word 'repent' means to 'turn your mind in the opposite direction'... this is to freely admit your sin and willingness to turn from it.
B. Believe God and the Gospel of Jesus Christ...
Rom. 4:3 says of Abraham, the Patriarch of Israel, that he believed God and it was counted to him for righteousness. What has God said in His Word that we must believe in order to be saved? God has said we are all sinners, we must believe that. God has said He sent His only begotten Son into this world to save sinners, we must believe that. God said that Jesus Christ is His Beloved Son, hear Him and we must believe that. We must believe the gospel of Christ in His death for our sins according to the scriptures, His burial and His rising from the dead on the third day, according to the scriptures... read 1Cor. 15:3-4 above.
To believe God and the gospel of Jesus Christ is more than giving simple mental assent to what is said... to believe is to rest one's whole spirit, soul and body upon the truth of God's Word...it is to accept these truths by faith... it is to trust God for what He says He will do...it will indicate your willingness to make changes in your life that will be in obedience to the Word of God.
C. Call on the Name of the Lord...
Rom. 10:13 "For whosoever shall call upon the name of the Lord shall be saved."
To call on the name of the Lord is to receive Jesus Christ into your heart by faith.. Jn. 1:12 "But as many as received him (Jesus Christ) to them gave he power to become the sons of God, even to them that believe on his name."
The way to call on the name of the Lord is through prayer..to just talk with the Lord...confess your sin, express your faith, trust and belief in Jesus Christ as your Saviour and Lord and ask the Lord to save you from your sins. It is a simple step to take...not easily done, but simple enough that even a child can understand God's Word and believe on Jesus.
If you sincerely prayed and asked God to save you from your sin, then, by His promise, you are a child of God, born into the family of God..other Christians are your brothers and sisters in Christ... Welcome!
Now it is important for you to follow up your decision to trust Christ with these things....
Read your Bible every day and spend some time daily in prayer. If you don't have a King James Bible, please contact the church..we will gladly give you a copy.
Get baptized... the Bible teaches "Believer's Baptism"... that is, baptism comes after salvation. Baptism is to be immersed in water as a witness to others that you have trusted Christ as your Saviour. If you would like to be baptized, please contact the church and we will be happy to give you some further instructions concerning this ordinance.
Go to church... you will need to find a church that preaches the Bible and holds true to the sound doctrines of the scriptures.. the local church is the place where you can worship God, be instructed in His Word, remember the Lord around the Communion Table, fellowship with other saints, and be encouraged in your walk with Christ.
Tell someone that you have trusted Christ as your Saviour.. you might be mocked by some, but others may also want to believe on the Lord Jesus as you have. We are to be a witness unto Jesus as part of our service for Christ.
May God richly bless you as you consider these things. If you have any questions, please contact the church...we would be happy to answer your questions for you.